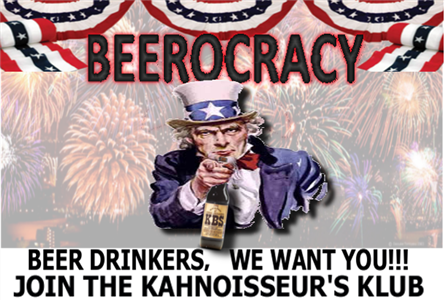 This election year, the time is ripe to enact change, to learn from our missteps and to build on our successes. At Kahn's, we are launching a campaign of our own; a crusade to better serve our loyal beer buying constituency. We call it Beerocracy!
Beerocracy is our attempt to handle the distribution of the most limited and sought after beer releases we have to offer. These high demand beers usually sell out before they reach our shelves. So you, growing beer lover, rarely get the chance to try them. We don't think that's fair, so here's what we're doing…
We still want to reward loyal patrons who are on their beer release game, so Kahn's will continue to have sign-up lists for the beer world's rarest releases. From now on, Kahn's will hold back and cellar an undisclosed number of some highly allocated beers for Beerocracy. Every couple months Kahn's will host a beer tasting for our Kahnoisseur's Klub members. Attendees will be entered into a raffle for a chance to purchase from our Beerocracy treasure stockpile.
OK. We're ready to kick this bad boy off in style…
Click to download the beer's you'll taste at the Beerocracy Kickoff Tasting
Call 317-228-9463 to join the Kahnoisseur's Klub today for just $10...and we'll tell you the date for Beerocracy I!
Raffle winners at Beerocracy I can purchase these beers...
Founders Blushing Monk
Victory Dark Intrigue
The Bruery + Dogfish Head Faster, Bigger, Better, Bolder (Gradually, Quietly, Steadily)
The Bruery + St. Feuillien Biere De L'Amitie
The Bruery Cuir
Upland Raspberry Lambic
Goose Island Bourbon County Stout
Mikkeller Beer Geek Brunch
Mikkeller Texas Ranger Chipotle Porter
Mikkeller Sur Monk
Hebrew + Terrapin Reunion Ale
Hoppin' Frog Barrel Aged Naked Evil Belgian-style Barley Wine
Any questions? Give us a call at 317-228-9463!
We look forward to firmly shaking your hand, kissing your babies and offering you an exclusive opportunity to buy some of the world's most highly regarded beers.