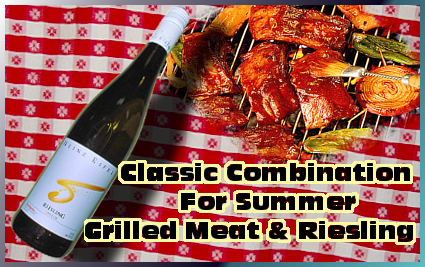 Wine of the Month Club Grilled Menu
Summertime is synonymous with outdoor barbeques, the smell of food sizzling on the grill and family and friends gathered around an outdoor table. If you're like me, you love to cook outside, drink a little wine, eat outside, drink a little more wine and enjoy the beauty and warmth of a summer evening.
Imagine a patio table covered with a red and white checkered table cloth, colorful outdoor tableware, wine glasses and candles glowing in the early evening; then imagine an entire meal centered around one great wine and your grill. Let's get grillin'!
One of July's Wine of the Month Club selections was the 2011 Heinz Eifel Riesling Spatlese. (order on Kahn's website) It is an elegant Riesling, luscious and full-bodied with a long and fresh finish. Not only an ideal dinner wine but perfect with riper, aged chesses, and fruit due to its enhanced complexity.
Riesling is hands-down one of the best food wines in the world, it's balance of intense acidity, minerality and fruit makes it an especially good match for spicy foods and the mix of ethnic flavors popular in the west.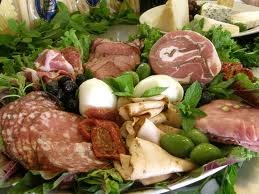 First Course: Charcuterie consisting of cured meats and cheeses, such as Asiago, Cheddar, Gorgonzola, Gouda, Gruyere and Genoa Salami, Soppresata, Pepperoni, Cotto Salami, Peppered Salami or Prosciutto
Second Course: Grilled Apricot, Arugula and Goat Cheese Salad
Main Course: Barbequed Ribs and Grilled Green Beans
Dessert: Grilled Peaches with Cinnamon Sugar Butter and/or Grilled Pineapple
I encourage you to try this simple summertime meal and the Heinz Eifel Riesling, a 90 points wine priced under $13.00. Comments and feedback are welcome (lynn@kahnsfinewines.com)
Bon Appetite – Cheers!