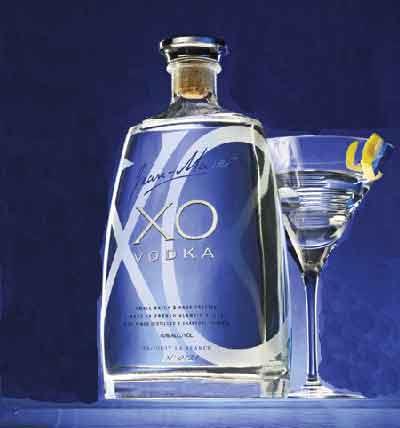 It's that time of year again. At 12:00 on January 1, 2012 many of us will find ourselves surrounded by loved ones as we ring in the New Year. We'll engage in long-standing New Years traditions like clinking bubbly-filled Champagne flutes together and we may even share a midnight kiss with someone special.
For many of us, Champagne is a staple for any legitimate New Years Eve celebration, but why? We're celebrating a New Year, so why not try something new?
Ringin' in the New Year with a Vodka Tasting
Personally, I'm not sure why unflavored Vodka hasn't become a 'thing'. Maybe it's slowly gaining speed. A quick browse in almost any liquor store reveals an explosion of flavored vodkas to fuel the current Vodka martini cocktail trend; however, a close look at the Vodka world reveals some excellent choices for Vodka purists.
Here are some helpful tips to make your tasting a success
Purchase four or five different unflavored vodkas. Let your interests be the guide, but you could certainly choose vodkas from the same country, same grain, or feature the main Vodka regions: Russia, Poland, Western Europe and U.S. Have fun with it.
Put the vodkas in the freezer overnight. Ice cold vodka is different than vodka at room temperature as it has added viscosity. You'll also find the aromatics are more apparent.
Glassware: Serve vodkas in fluted or chimney-style glasses. Fluted cognac glasses or Champagne flutes work well. If you're in the market for stemware, we recommend Winelovers Champagne flutes, Chill glassware in the freezer for about an hour before the tasting.
Food: Some classic pairings with vodka include: caviar, oysters, pickled vegetables, oily fish, anchovies, herring, and smoked salmon, spicy and salty food. Encourage guests to nibble between tastings.
Serving: Pour an oz. to 1.25 oz. of vodka into the chilled glasses. Encourage guests to let the vodka warm (a little) in its glass before tasting. Make sure to smell and note the differences before tasting. Does the nose match the palate? What are the differences? Encourage your guests to drink bottled water to cleanse their palates.
How should vodka taste? It depends on what you like, but most tasters agree that smoothness is an important taste characteristic of quality vodka. I prefer vodkas that are clean, crisp and complex, but you might like something completely different and that's just fine.
Kahn's recommends: