Wine ratings need an overhaul.
Winespectator.com discloses on its Tasting Format page that 'price is not taken into account in scoring.' Similarly, The Wine Advocate's Rating system also admits that 'neither price nor the reputation of the producer/grower affect the rating in any manner.'
Price shouldn't affect a wine's rating; however, price definitely affects what consumers actually buy. Thus, wine rating systems that provide information about wine quality alone (wine ratings) are incomplete. Consumers deserve an unbiased, data-driven rating system that takes ratings AND price into account. Thankfully, the data needed to construct such a system is readily available. We have product ratings from reputable sources like winespectator.com, erobertparker.com and wineenthusiast.com and we have outstanding average price information from all over the world from the good people at winesearcher.com.
Ok, so we've decided that a system that accounts for ratings and price is a good idea, but is that enough? Not quite. Read on friends…
An informal survey of seven of the most experienced Kahn's employees (over 80+ years of experience selling wine, beer and spirits between us, goodness we're old) revealed that most customers first search for varietals or regions they like and then attempt to find the best quality/value combination given what they are willing to pay. We estimate that fewer than 10% of customers look for wines that are 90 pts or better without first considering what they actually like.
In essence, taste preferences (varietal, region, etc) are sought out, and then customers try to find the highest quality wine given their willingness to pay. Wine ratings play huge role in influencing whether a customer purchases a particular product.
Therefore, our system can't just account for ratings and price. It must also consider how a wine tastes in relation to other wines in its peer group, be they varietal or region. Essentially, we need to make sure that we're comparing apples to apples; or, 2009 Bordeaux to 2009 Bordeaux, as it were.
The new system will be helpful because it will help consumers to answer two questions:
· How good is a wine in relation to other wines like it, AND
· Given its level of quality is it a good deal?
Introducing Value Based Ratings and Value Based Ratings Symbols.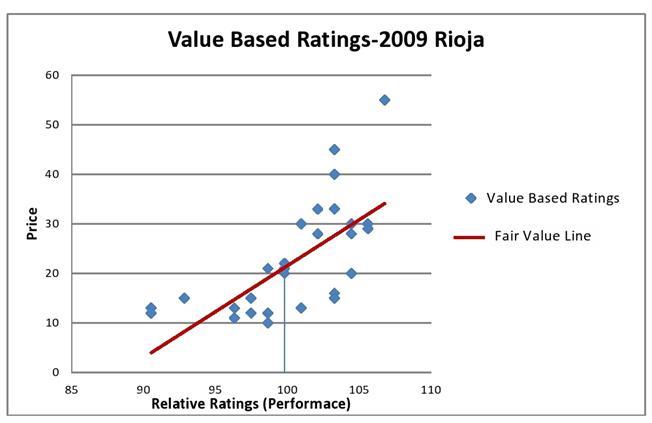 As you probably know, Wine Spectator and other wine periodicals most often use a scale that rates wines from zero to 100. To illustrate Value Based Ratings, I utilized Wine Spectator's ratings for 32 2009 Red Rioja wines under $100 a bottle. Ratings ranged from 78 to 92pts, with an average rating of 86. Prices ranged from $10 to $55 a bottle, with an average price of $22.
Relative performance = Product Rating/Avg. Rating x 100. One product was rated 87 pts. Its relative performance = 87/86 *100, or 101. Since a score of 100 indicates average performance (an 86 rating), this product is slightly better than average. I plotted all of the 2009 Red Rioja wines from Wine Spectator on the graph with their prices.
In addition, I plotted a line estimating the relationship between price and relative performance. This line can be used to estimate the fair price for any relative performance position.
The Bottom line: If a product's relative performance is on the fair price line, it is priced fairly. If a product's relative performance is below the line, it is priced below the fair price and represents a great value. The best values are the wines that are below the fair price line and above 100 on the relative performance scale (to the right of the blue line at 100 on the graph).
Observations…
First, fifteen of the wines in our data sample were overpriced for their average relative performance. Of those fifteen wines, nine were of above average relative performance, and six were worse than average. Over-priced and worse than average quality…not good. Yikes!
Second, seventeen of the wines were priced on or below the fair price line—great news for consumers! Of the seventeen wines on or below the fair price line, ten exhibited average or above average relative performance. That's good.
How can this help you make better wine purchase decisions?
Imagine going to your favorite wine shop (Kahn's, naturally) and looking at a sign that tells you about a product. The sign will most likely have a price, description, rating and one of the symbols in the table below. All of the symbols are comprised of three things: a. a vertical line (this line designates 'average' quality for products in a given varietal or regional classification; the diagonal fair price line that intersects the vertical line, and the most important part, the ball. The ball indicates the value based rating of a given wine. In essence, the ball tells us how the wine compares to other wines in its peer group in terms of relative quality and price.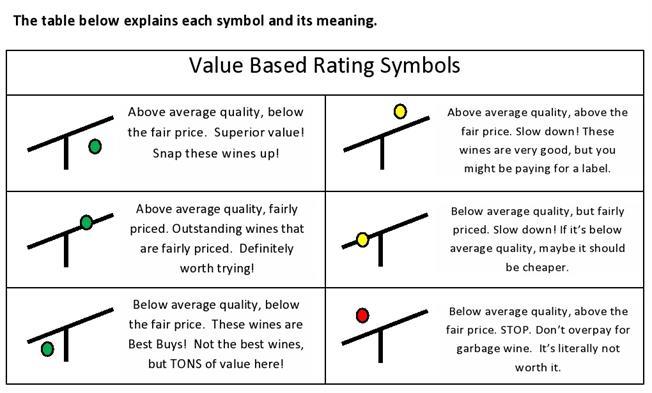 In conclusion
Since value is an important part of any purchase decision, it makes sense to have an objective way to guide consumers to wines that offer superior value. Wine periodicals don't factor price into their rating methodology, and that's a good thing. Let wine periodicals rate wines objectively, let the market determine a wine's price and let Value Based Rating symbols guide consumers to wines that offer tremendous value based on a unique combination of relative performance and price.
What do you think? Email me at todd@kahnsfinewines.com