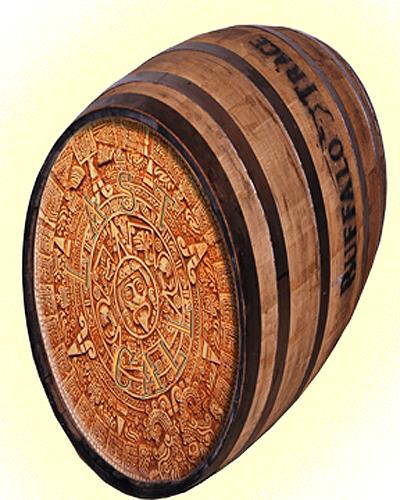 Bourbon barrels have been an important part of Kahn's Fine Wines ever since we started hand-selecting bourbons from Kentucky's finest distilleries. When we buy a barrel of bourbon from a distillery, the distillery bottles the whiskey and gives us the barrel as part of the deal. We love hand-selecting bourbons, and the barrels provide us a physical reminder of a fond memory. In fact, everyone who helps to select the bourbon signs and dates each barrel, so every barrel at Kahn's tells the story of its whiskey and the people who selected it. While these barrels have always served as reminders of positive memories, we've never had a barrel tell us something about the future…until last Friday.
On Friday, December 1st, 2012 we noticed something peculiar on a bourbon barrelhead as we set up our North Willow store for Saturday's Champagne and Shopping Event. We were going to use the barrel as a tasting station, but as we moved it into place, we saw something that gave us pause.
Take a close look…
This is the view of a Buffalo Trace barrelhead at Kahn's North Willow. If you look closely at the barrelhead, you will see the Mayan Long Count Calendar, which some have argued predicts the world's end on December 21, 2012. Whether you believe that or not is up to you, but we are certain that you are as perplexed as we are with the Mayan Long Count Calendar's presence on a Buffalo Trace barrelhead at Kahn's Fine Wines. Certainly, this is no coincidence. Curious, we had our resident Mayan scholar examine the calendar for deeper meaning or some clue to its bizarre presence on our barrelhead. Bravo to our hiring managers, by the way, who assured us that having a Mayan scholar on staff would come in handy at some point…
As our Mayan scholar examined the barrelhead, 8 glyph-like letters became clear. If you look closely, you can see that the characters closely resemble the Roman characters: L, A, S, T, C, A, L, L. Interesting. Upon further review, he noticed that our Mayan Long Count Calendar referenced an odd sequence of numbers: 12.19.19. 17.19.
Peculiar.
Now we were really interested, so we had him dig deeper. Our Mayan scholar then mentioned that the Mayan date 13.0.0.0.0 on the Mayan Long Count Calendar was significant because it marked the end of what Mayan's called the 'fourth world.' He further explained that 13.0.0.0.0 corresponds to December 21st 2012 on our calendar.
Provocative.
That of course led us to the next question: What day is 12.19.19.17.19 on our current calendar? As it turns out, 12.19.19.17.19 = December 20, 2012. The date BEFORE the end of the fourth world.
Let's review the information we have before us:
Bourbon Barrel at Kahn's Fine Wines with a curious and interesting version of the Mayan Long Count Calendar
The Mayan Long Count Calendar on the barrel contans 8 glyph-like characters that closely resembled the Roman letters L,A,S,T,C,A,L,L.
The curious sequence of numbers: (12.19.19.17.19, A Mayan date), which corresponds to December 20, 2012, the day BEFORE the Mayan's predicted end of the fourth world.
What conclusions can we draw from this arcane combination of information? To us, the Mayans are clearly calling for a BOURBON TASTING...
Join us for LAST CALL, a Tasting of 25 Bourbons at Kahn's NW on December 20, 2012 from 6-8 pm, the night before the world's end.