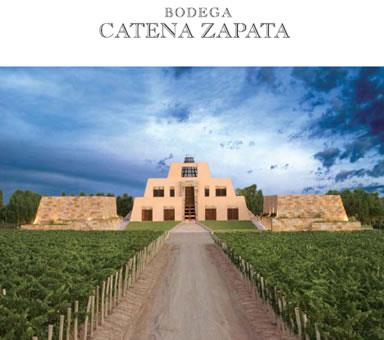 Catena event at Fleming's Steakhouse May 4, 2011
Amazing Food..... Stunning Wines...... Absolut Enjoyment...... This is how you sum up the Catena event at Fleming's. Hosted by Jorge Liloy of Catena, the evening began with crispy garlic flatbread topped with arugula pesto, feta and truffle fingerling potatoes. This was paired with Catena's outstanding (90 point Robert Parker) Chardonnay and Tilia's (Catena) gorgeous blend of Malbec/Syrah. The Chardonnay is one of the most balanced Chardonnays I have ever tasted. With subtle oak and lovely tree fruits such as pears and apples, it conveys to your palate the sure awesomeness of Catena's elevated Chardonnay vineyards.
Next, was coriander porcini crusted pork tenderloin with pink lady apple and charred red onion chutney. This course was paired with none other than, Catena's "Alta" Cabernet Sauvignon (91 points Robert Parker) and Catena's Malbec (91 points Robert Parker). What a match made in heaven. The Cabernet boasted Currants and black raspberries, backed by silky smooth tannins and the perfect acidity. The Malbec was exceptional, with even darker notes of rainier cherries, light chocolate notes, and Asian spice.
Lastly, was the highlight of the evening.Coffee crusted lamb lollipop with shallot butter sauce paired with Alma Negra's Red Blend (91 points Robert Parker) and the awesome, astonishing 2007 Nicolas Catena Zapata (98 points Robert Parker).The Alma Negra was a new blend that I had not seen before. It was primarily composed of Bonarda which is a grape that originates from Italy. The latter portions are Malbec and Cabernet Franc which add significant texture to the wine. This poised a wonderfully fruity but dark wine as suggested by the label which has a shadow hidden picture of a mask similar to the "Guy Fawkes Mask".
Before anyone tasted the Nicolas Catena Zapata, Jorge began explaining the process in which they make this wine. It is not rushed, over managed or technical. The winemaker takes plump clusters of grapes and places them in new French Oak barrels, which then through natural free run weight and hand pressing from the winemaker these grapes are crushed. Once the clusters have given all their juice they are removed and the wine is then placed into more new French Oak barrels to allow more fermentation and aging. This was an awesome portrayal from Jorge and he made us all feel the winemaker's sheer awesome craft as if we were there. The wine is a blend of 70% Cabernet Sauvignon, 20% Malbec, and the balance Petit Verdot and Cabernet Franc. It delivers a fascinating aromatic array of pain grille, pencil lead, mineral, espresso, mocha, incense, lavender, black currant, black cherry, and blackberry. Everyone was amazed and just kept tasting.
It was a remarkable night and I would like to thank Fleming's, Jorge Leloy, Monarch Beverage and everyone that attended. We can't wait for our next event and hope you will be able to enjoy it with us. Contact any of our locations to inquire about future tasting events or click for our events page.
Cheers,
Graham Miller
Assistant Manager
Kahn's Fine Wine & Spirits
25 N. Pennsylvania St.
Indianapolis, IN 46205