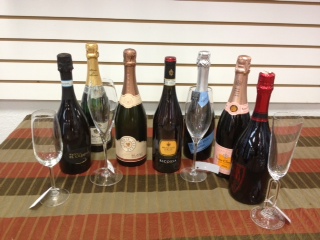 Champagne Brunch
If I say Kleenex, Coke, Xerox, Clorox, Chap Stick, what thought or image pops into your mind? Do you visualize a tissue, soft drink, copy machine, bleach and lip balm? Most likely you do.
If I say Champagne, what is your first thought? Unless you are an aficionado, you probably think of a sparkling wine or often just "bubbly". While all champagne is sparkling wine, not all sparkling wine is champagne. There are so many sparkling wines to sample and enjoy, so let's have brunch and explore the differences.
First of all, sparkling wine is a wine with significant levels of carbon dioxide in it making it fizzy. The carbon dioxide may result from natural fermentation, either in a bottle, in a large tank designed to withstand the pressures involved, or as a result of carbon dioxide injection.
There are many different types of sparkling wine:
Blanc de Blancs – sparkling wine made from the white grape, Chardonnay
Blanc de Noir – sparkling wine made from the black grape Pinot Noir or Pinot Meunier
Chanpagne - In order for a sparkling wine to be considered champagne, it has to come from the Champagne region in North Eastern France.
Rose – a pink wine because a little red wine is blended in after the secondary fermentation to adjust the color
Asti is the generic Italian term for sparkling wine
Prosecco is an Italian sparkling wine, generally dry or extra dry and the main ingredient of the Bellini cocktail
Moscato is an Italian sparkling wine with lower alcohol content and it has a fruit-forward, sweet to semi sweet character
Espumante is a Portuguese sparkling wine, fragrant with great acidity and rich, earthy fruit flavors
Cava is a Spanish sparkling wine, it may be white or rose and is an important part of Spanish family tradition
Sparkling Shiraz or Red Wine is an Australian sparkling wine, or as they used to be known in Australia - Sparkling Burgundies, and is made in the same way as Champagne - that is, bottle fermented, aged on lees, then liqueured and left to develop in the bottle. However, instead of using Chardonnay and Pinot Noir as the base wines, they use quality red wines
Sparkling wine of all varieties can be paired with just about any food group but it works really well with brunch, a classic meal that we all enjoy. At my house I would prepare an assortment of cheeses and charcuterie and serve a domestic sparkling blanc de blanc, followed by Prosciutto-Wrapped Melon and Sweet and Sour Little Smokies paired with Cava.
Entrée dishes of Hazelnut Banana French Toast- served with Prosecco and Grilled Chicken Breasts with Grapefruit Glaze paired with brut Champagne are excellent choices.
Brunch side dishes that would pair nicely with any type of sparkling wine include Stuffed Mushrooms, Poached Eggs with Parmesan and Smoked Salmon Toasts, Caesar Salad, or Caprese.
Moscato served with assorted pastries, cheese cake or chocolate pudding would be a perfect ending for your brunch.