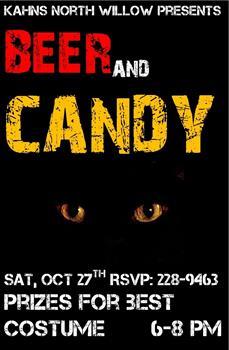 Come for the beer tasting! Stay for the raffle! Tis the season when all good ghosts and goblins partake in the ambrosia that is beer and candy. Beer itself is a beautiful balance of sweet and bitter. Tastings are free for everyone (over 21, that is). But you have to be a Kahnoisseur Klub member to participate in the 'Beerocracy' raffle. The 'Beerocracy' raffle is an incentive program affiliated with our Kahnoisseur Klub. Kahn's takes a limited number of highly allocated beers, and cellars them away. Every beer tasting event will feature a raffle. Winning a raffle drawing means that you win the right to purchase a 'Beerocracy' item featured at that event. These beers are produced in limited quantities, and not available year round (kind of like having Christmas in July). Not a member of the K-Klub? No prob! You can sign up anytime, even at the event! Only $10, per individual, for an annual membership. Pretty Sweet, huh?
Beerocracy Beer Raffle for the Beer and Candy Event include: Rogue Imperial Stout, The Bruery Oude Tart, Three Floyds/Mikkeller BooGoop, Schneider Weisse Cuvee Barrique, Rivertown Ojos Negros Lambic, Founders Frangelic Mountain, Bell's Expedition Stout, Drie Fonteinen Oude Gueuze, Three Floyds RisGoop, Goose Island Bourbon County Stout, Three Floyds Behemoth, Clipper City Below Decks Barleywine, Founders Kentucky Breakfast Stout, Goose Island Juliet, and Great Divide Espresso Oak Aged Yeti Imperial Stout.

Good Golly, Molly! That's a lot of Beer!!!