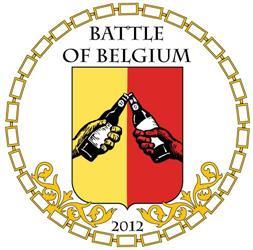 If you already know about the Battle of Belgium and just need your bracket, here it is: Download the Battle of Belgium 2012 Bracket here.
If you're new to the Battle of Belgium, we promise that it will be an unforgettable beer experience. The Battle of Belgium is a 4 day, 32 beer single elimination blind taste-off where customer votes determine the King of Belgian Beer! Last year's champion was St. Bernardus Abt 12 and as the overall #1 seed in 2012, we think there's at least a decent chance for it to repeat, but just like last year, we'll let the tastings decide...
The Battle of Belgium is March 7-10 from 6-8pm at Kahn's North Willow, 2342 W. 86th Street.
Battle of Belgium Bracket Challenge:
How to Play: First, pick up a bracket at any Kahn's location or Download the Battle of Belgium 2012 Bracket here. Fill out your Battle of Belgium bracket by selecting the beers you think will advance and eventually win. Brackets must be turned in by March 7th at 6:00 pm to any Kahn's location. Points are awarded for each correct pick and will be equal to the round number, i.e. Round 1 = 1pt, Round 2 = 2pt, etc...The person with the most total points will be anointed the Baron(ess) of Brew and will win an outstanding prize. Follow Kahn's on Facebook http://www.facebook.com/KahnsFineWines and Twitter @ Beer_at_Kahns for round by round updates.
The Tastings: Initial matchups are based on seeding. All matchups will be conducted blind. At the tastings, customers vote for their favorite beer in each matchup, and the beer with the most votes will advance to the next round. In the event of a tie, a Kahn's staff member will break the tie by tasting and voting for their preferred beer in the tied matchup. At the end of each day, brown bags will be removed and the beers will be revealed. In the event of a tie in the final round, the winner will be the beer with the greatest number of votes throughout the tournament.
For K-Klub Members: Every Battle of Belgium round will have also have a Beerocracy raffle, where K Klub members will have the chance to purchase beers from our Beerocracy Stockpile. Click for Info about Beerocracy. Only Kahnoisseur's Klub members can enjoy the Beerocracy Benefit, so if you want to have the chance to purchase rare and hard-to-find beers at the Battle of Belgium, then make sure to join the K-Klub. Click for Other Great Reasons to Join the Kahnoisseur's Klub!