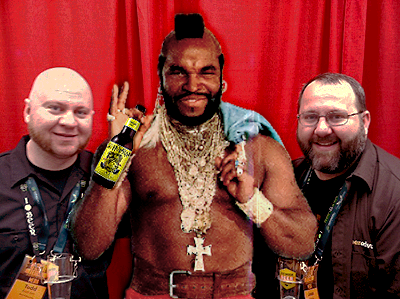 Much maligned and forever misunderstood, the A-Team's B.A. Baracus is an enigma., A co-worker once joked that "with a pair of pliers and a little time, [B.A] could fix anything but dinner." A mechanical wizard, B.A.'s technical genius was in stark contrast to his underdeveloped interpersonal skills. Past performance evaluations note that he: "has severely deficient conflict resolution skills" and "regularly displays a contemptuous disregard for authority." Not shockingly, the words 'Collaborative Problem Solver' and 'Good Listener' are not present on B.A.'s Curriculum Vitae. For legal reasons, we cannot describe how B.A. treats people he doesn't like, but we can disclose that he is more likely to punch a close friend square in the face than he is to listen about their day. One co-worker stated that "a good swift kick in the pants is more pleasant than even a brief interaction with B.A."
It's easy to see why many believe that 'B.A.' stands for Bad Attitude.
And that's sad, because there's a different, compelling side of B.A that his gruff demeanor belies. It sounds crazy, but truth be told, B.A. has been active in the beer community for around thirty years. In fact, B.A. co-founded the Beer Judge Certification Program (BJCP), scored a perfect score on the BJCP exam and holds the distinguished rank of Grand Master Judge VII. A Master Cicerone, B.A. is one of the four industry experts charged with administering the oral examination portion of the final examination to all Master Cicerone candidates. Be warned.
An expert brewer, B.A. has won gold medals for every beer he has entered into the Great American Beer Festival (over 105 entries at last count), and even won gold five times in the highly contested American Style IPA category. Additionally, B.A. helps Three Floyd's brew its famous Dark Lord Russian Imperial Stout, and leads the Quality Assurance (QA) teams for Russian River Brewing Company and the famous Trappist brewery Westvleteren.
Though it is easy to see why some would equate B.A. with Bad Attitude, 'B.A.' actually stands for Beer Advocate; and his accomplished, albeit little-known resume, provides ample evidence for his longstanding commitment to beer and the beer community. In fact, B.A. helped brothers Jason and Todd Alström to create Beeradvocate, the most famous and important beer website on the internet. Because B.A. did not wish to have a visible role in the website's operations, Jason and Todd insisted that the website be called Beeradvocate, to honor B.A.'s contributions to the beer community. B.A. begrudgingly (as usual), agreed. Today, B.A. serves on the board at Beeradvocate, and he tastes and rates beer regularly with Jason and Todd.
The picture above is of B.A. with his good friends Jason and Todd Alström. Let me assure you, this picture was extremely difficult to obtain.
Pretty cool, right?
Kahn's has known B.A. for a while; and we have been in regular discussions with him about hosting an event to showcase some of his favorite beers. Finally, because of his strong allegiance to Beeradvocate, B.A. agreed that we could host an event called BA's Top Picks. The beers in this event are all 90+ rated on Beeradvocate and by B.A. himself.
We are pleased that B.A. gave us permission to host an event that will feature 90+ rated beers, but we feel obliged to insert a brief word of caution: B.A. is still B.A., so make sure you come to this event….or B.A. will come find you, and as stated earlier, we do not recommend being on the wrong side of an argument with B.A.